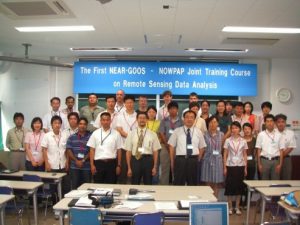 IOC SubCommision for the Western Pacific (IOC/WESTPAC) and CEARAC conducted the 1st NEAR-GOOS – NOWPAP joint training course on remote sensing data analysis, at Nagasaki University, Nagasaki, Japan.
The course consisted of lectures by specialists and hands-on practical sessions on analysis of satellite data. The course provided an overview of remote sensing of ocean color with special emphasis on applications of ocean color relevant to the Northwest Pacific Region.
The training course was targeted at postgraduate students, professional researchers and local government officers working in the fields of marine sciences and coastal-zone management in North-East Asian Regional GOOS (NEAR-GOOS) and NOWPAP area. Applications from advanced undergraduates also were considered.
Ten lecturers composed of experts from China, Japan, Rep. of Korea, Russian Federation and USA, were invited and made the lectures and give practices to twenty three participants in the training course.
Twenty three participants from eight countries which were China, India, Indonesia, Japan, Rep. of Korea, Russian Federation, Thailand and Vietnam, were chosen based on their demonstrated ability to be able to transfer the knowledge and skills gained in the course, back to their respective schools and institutions as trainees, and attended to the training course.