Interview with Dr.Nobuo TAKAGI
Dr.Nobuo TAKAGI


Marine Resources Division,
Fisheries Department,
Nagasaki Prefectural Institute of Fisheries
<Major research themes>
Understanding marine resources to contribute to evaluation
and research of fisheries resources
| | |
| --- | --- |
| | What are the mask tasks of your section? |
| | There are three major tasks in my section: evaluation and research of fishery resources; understanding of marine environment; and development of fishery gears and practices, diagnostic evaluation of fishing grounds for set-net fisheries and bathymetry investigation. While working on these themes, the Nagasaki Prefectural Institute of Fisheries has been providing relevant information such as evaluation of fishery resources, yield forecast, seawater temperature and bathymetry. |
---
How do you use satellite data and what benefits do such data have?
The Institute develops images of seawater temperature and ocean color in adjacent sea areas of Kyushu by using satellite data and uploads them on its website

http://www.marinelabo.nagasaki.nagasaki.jp/gyokaikyo/index-nippo_n.html
This type of information is basically updated on a daily basis. In addition, we developed new application software for Smartphones with a simplified navigation system, which enables vessels/boats on the sea to obtain sea surface temperature around them. The system has been in operation since summer 2012.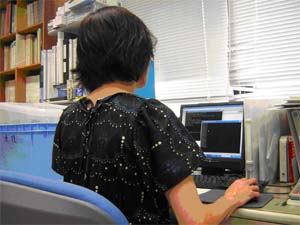 A scene of developing a daily report of the seawater temperature in Kyushu area
As targeting on wider sea areas, satellite data is an essential resource for the Institute to develop images of the seawater temperature and ocean color of the sea. Some fishermen use our information to decide fishing grounds for migratory fish. For squid fishing, they check information on the seawater temperature and choose the same temperature zone where yields were good on the previous day. Some people say, "We keep on using the sea surface temperature images, because we often have a high yield if we look at them." If a target area for fishing is decided by the images of seawater temperature before leaving the port, fishermen can reach the fishing site quickly. It saves much time and energy than searching for good fishing sites by a on-board water temperature meter. This means that the satellite images can even help reducing CO2 and conducting "environmental-friendly and economical fisheries." DMSP in the information of seawater temperature is also well-utilized. The Institute also provides ocean color images. As some fishermen say that they cannot catch juvenile of Pacific bluefin tuna in the turbid water, we are studying the relationship between ocean color and turbidity of the sea. We understand that providing information can be one type of business model, and we consider establishing an information service business. As the first step, we need more research on the relationship between the environment and fishing grounds.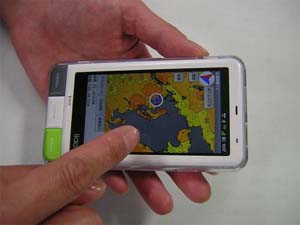 Checking the information on the seawater temperature with Smartphone
---
| | |
| --- | --- |
| | What feedback do you receive from fishermen? |
| | First-hand experiences are themost important information for fishermen. They save information such as high yield sites and seawater temperature and decide the fishing grounds on the next day. When they need more information, they talk with one another about the fishing grounds and conditions of the sea, etc. The information which our institute can provide is only a part of their own data. In the past, we didn't receive much positive feedback from fishermen on our providing information, but one fisherman in Iki Island advised us, saying, "Don't worry about types of information you provide to us. Just inform us as much as information possible. We are the people who decide what information is necessary for fishing. We use your information only when we need it." This was a very important turning point for us to re-consider about fishery information. He also helped us develop application software for Smartphone. Inaccessible information when needed is useless. We are not sure whether our information is used daily or not, but as long as we keep providing it, some fishermen surely use it. We take the social role of our information as it is. Now, to improve the usability of our information, we would like to add more useful aspects such as the relationship between fishing ground formation and seawater temperature. Then, our information will not be only a notice, but will be a practical tool for fishermen. |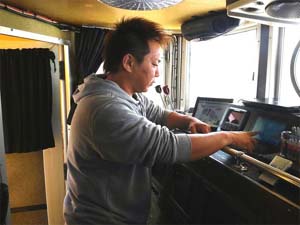 Observing oceanic conditions on ship
---
| | |
| --- | --- |
| | What is your expectation for satellite data? |
| | We expect to obtain real time data as much as possible. Automatization of the system could be one option. For example, when we update the daily information at 9:00 a.m., data for 5:00-6:00 a.m. on the same day is more realistic for fishermen. Many fishermen hope to obtain such near-real-time information. We also expect to obtain satellite data which don't have cloud interference. Unfortunately, we sometimes cannot obtain data on water color for weeks due to cloud interference. In that sense, we are counting on a new capability of a new satellite "Shizuku (GCOM-W1)" to detect sea surface temperature without cloud interference. Also, as the relationship between water color and juvenile fish is suggested by some fishermen, information on water color will be more important in the future. |
(Interview on 29 March 2012)